Best Hotels Vienna
so, have you picked your favorite yet? ;)
i can´t, i´ll have all 3, please!
The idea of doing this guide came thanks to some of you who asked me about the best places to stay in Vienna, so we searched for the best ones and here you are!
When i say the best ones, if mean our favorites. It doesn´t necessarily mean the most luxurious or expensive, but the ones that match best our style: edgy, cool. relaxed, cozy and instagrammable ;)
Of course the location, price and services are also important, but we´ll get to that later.
Translated in English, the name means "old town. The hotel was one of my biggest surprises, because i used to live very close to it and had no idea of its existence, so imagine my joy when i discovered it! Besides, it is located just next to Ulrichplatz (one of the places we recommended you in our Vienna Tour Guide, surrounded by countless cafés, boutiques and shops.)
ADDRESS: Kirchengasse 41, 1070 Vienna
FAVORITE THINGS: the location, the urban vibe mixed with the classic Viennese flair, the breakfast buffet and the rooms. They are each different and some of them are really beautiful, designed by some very creative minds, like artists, architects and designers. A special thanks to my friend Alice Katter, who invited me for breakfast and introduced me to this hidden gem.
TIPS:
my 2 favorite rooms are quite similar and are room 53 and room 56 (the one with the boy painting) both from the Perfect Props by Andrea Lackner
the Josef Frank Suite is also very nice
for lovers and honeymooners, they have this special suite, called Felix with a bathtub in the room. say what?? ;)
the stairs and hallways to the different rooms are very nice, worth a stroll
for dinner you could go to the magic tunnel or Ulrichplatz (check our Vienna Tour Guide for more)
for those who live in Vienna, some of the rooms are perfect for a photoshoot, so bloggers, now you know ;)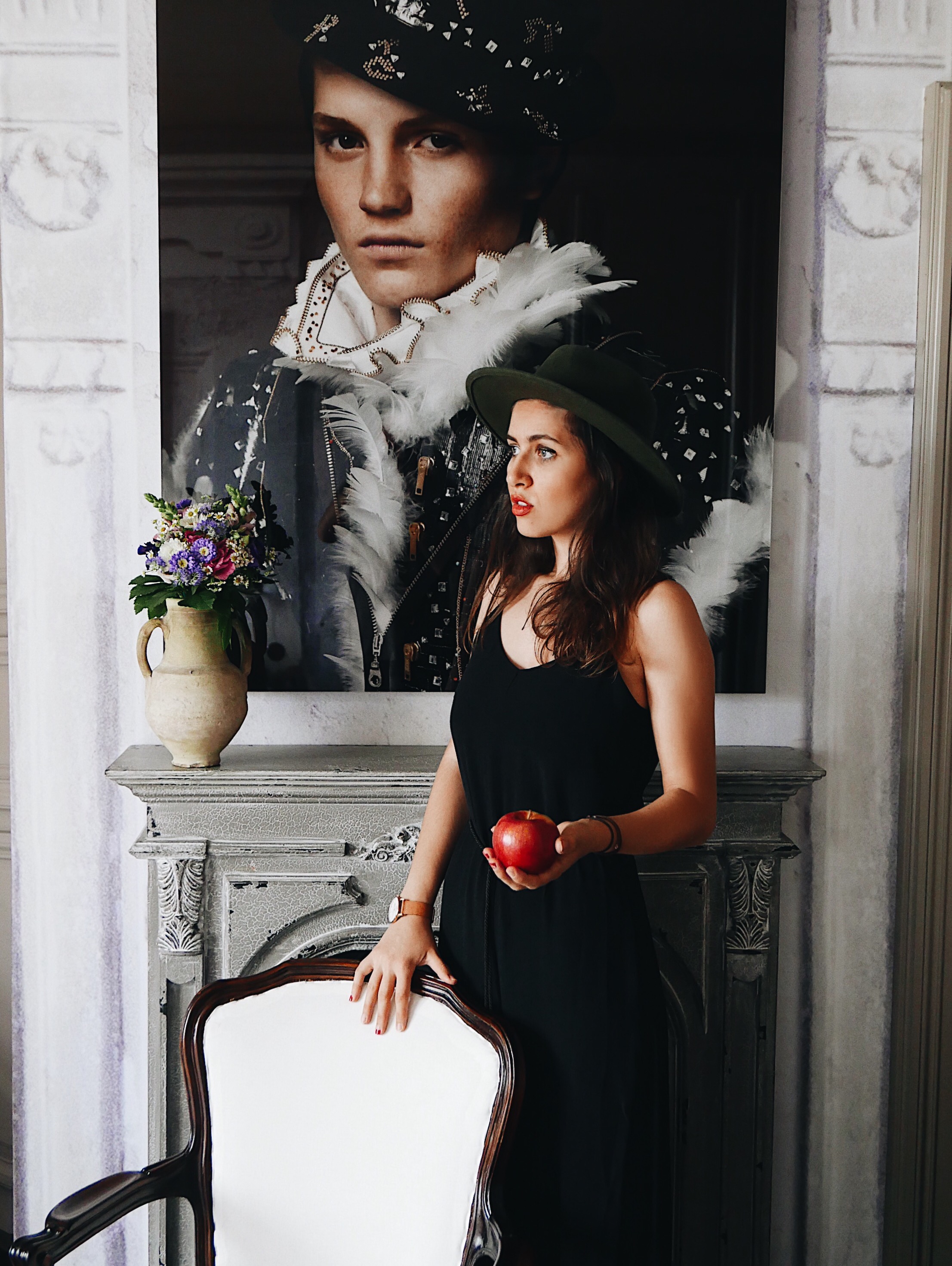 25hours Hotel Vienna at Museumsquartier
ADDRESS: Lerchenfelder Straße 1-3, 1070 Vienna
FAVORITE THINGS: The hotel is circus themed, the bedrooms walls are colorful, each room is different mixing some modern, retro and even vintage details. Apart from breakfast buffet you eat some good burgers at Burger de Ville, have brunch or dinner at the 1500 Foodmakers restaurant and a drink at Der Dachboden, the rooftop terrace bar. Cool views! 25hours Hotels is a chain with more Hotels in nice European cities, like Berlin, Zürich and soon Paris! ;) I wrote a blogpost some time ago about our experience with them, you can see it here if you´re interested ;)
TIPS:
i´d definitely check the Mermaid´s cave spa area. I won´t say more ;)
My favorite design is the grey wall. The best rooms are the XL and the panorama ones. If i had to choose, i´d go with the first one, especially in summer. The main "attraction" in the XL rooms is that there is a bathtub in the balcony, yes! And you can use it, it´s not just for decoration purposes. Don´t worry, it´s safe, nobody will see you ;) Only some curious neighbor, kidding!
beside the XL rooms, there are also smaller rooms with a nice bathtub in the bathroom, just next to the window
The panorama rooms have one of the walls made only of glass. They´re perfect, especially in fall, because the park in front of the hotel is all red and yellow and it offers you this beautiful view above Vienna.
Because of the circus theme, some of the walls have painted snakes, if you´re have this crazy snakes phobia, like i do, ask at the reception for a "non snake room", lol!!
oh, and i almost forgot about the tiny loft on the roof terrace, where you can organize private events ;)
The chain Ruby Hotels has 3 hotels in Vienna (they just opened Lissi this last month, so it will not be in our guide, you have to see it for yourselves ;)
RUBY MARIE-> address: Mariahilfer Strasse 120/Kaiserstrasse 2-4, 1070 Vienna
RUBY SOFIE-> address: Marxergasse 17, 1030 Vienna
RUBY LISSI-> address: Fleischmarkt 19/Laurenzberg 2, 1010 Vienna
FAVORITE THINGS: Their philosophy: "We prefer rough edges instead of slipperiness, nonchalance than overdressed, laughing loudly and heartfully instead of gossiping quietly." I mean, right? I love a lean luxury hotel! They have a 24 hours galley with hot tea tea on every floor, a bar, a library, a yoga space, a work space, a girl´s room and maybe the best part, self check in and check out.
TIPS:
book the Loft room at both Marie and Sofie, but especially ask for the one with the bathtub at Marie ;)
for a romantic evening, go see a movie at the movie lounge if you´re staying at Marie
rent the winter garden at Marie for a special private event
rent a guitar for free and go wild playing it in your room. Maybe you´re an undiscovered talent, who knows? ;)
and for those who live in Vienna, you can have brunch during the week. It is super affordable and so very good! You´re welcome!! ;)
Now, what do all these hotels have in common?
- they´re easy breezy, beautiful, like the cover girls, you know? ;)
- central locations
- they have nice concepts, philosophies and design
- the breakfast buffet is very good
- all 3 hotels offer you at least one room with bathtub, for those who love fancy baths with flowers, croissants and champagne ;)
So, i hope you enjoyed this, we surely did. If you´re interested and want to see more hotels we like in Vienna, tell me and maybe we´ll do a part 2.
love,
i
p.s. the hotels are in chronological order